Idaho Local TV Report Asks: What Is A Family?
Excerpt from transcript of Danielle Grant's Local News 8 report:
The definition of family is under scrutiny.

This comes after a local same-sex couple was denied a family pool pass at Lava Hot Springs.

The two claim the staff at the swimming pool facility told them they didn't fit the description of a family and couldn't get the reduced rate.

The executive director of the Lava Hot Springs Foundation says they define parents as adults who are legally in charge of dependent children or who are married to the adult who's in charge of the kids.

Since the state of Idaho doesn't recognize same-sex marriages, the American Falls couple didn't get the $20 pass.

Local News 8 talked with both parties about it and the two ladies say they're frustrated the facility would belittle them. While the Lava Hot Springs foundation says they were just following its policy.

Sunshine, blue skies and getting wet in the water!

It was a day full of family and fun.

But the family of five says their fun was cut short in the ticket line.

"We're a family. We live together. This is our family and she said, No it doesn't work that way.' A family is a mom, dad and children. I was like are you kidding me?" said Amber Koger, who got turned away.

The executive director for the Lava Hot Springs, Mark Lowe, says to get the discount parents must be legally obligated to the children or married to someone who is.

And more than 100,000 people splash in the pools during the summer season and he says this has always been the policy.

"Not everybody accepts our lifestyle and that's fine we deal with that everyday but don't put our family down in front of the kids," said Jeri Underwood, frustrated with the situation.
Towleroad mentioned the story a fortnight ago, but with this fresh and very worthy video report courtesy of Eastern Idaho's #1 News Source, well, a second look might be in order.
Because, in all of the back–and–forth about "marriage" … it's a useful reminder that this is ultimately about "family" … a concept so basic and universal that even some of us from the Mormon Corridor are able to grasp that – when it comes to family – "It's about Time!"
And maybe it's about time I post a shameless plug for my YouTube channel. With a few more subscribers, it'll soon be the #1 "political news" channel in Taiwan.
Anyway, enough of my self-serving non sequiturs … who would've thunk – even just a few years ago – that a press release like this would be issued from Lava Hot Springs, Idaho?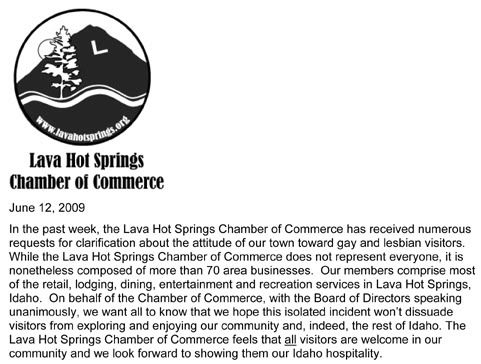 As Idaho booster Misty writes, "Idaho might not be the kind of place you fantasize about when you think vacation, but you might be pleasantly surprised … Load up the car with snacks, friends, or your partner and kids and hit the road."
And sure as shootin', after this latest kerfuffle, you just might well be (properly welcomed and surprised). So, good on Lava Hot Springs, and here's to progress and to pleasant surprises in future (rather than that other kind that Jeri and Amber and their kids had to deal with so recently).