Remembering a Convert
As a child, I admired Brother B. He was a member of our ward. Back then Brother B. must have been in his fifties. He was naturally self-confident and projected authority in an understated sort of way.
Late in life, Brother B. had switched careers to become a natural healer. My mother who had been a physiotherapist educated in the natural health tradition was all into that. Personally, I thought natural healing was baloney but that did not detract from my respect for Brother B.
Over the years, I became good friends with his mother who was widowed twice. Her name was Margarete D. Sister D. lived less than two miles from my family. My mother, my siblings and me would visit her regularly. After my family moved and I spend the last two years in high school by myself, I would make sure that Margarete would make her doctor's appointments even in ice and snow. Margarete in turn had sown for my mother. In some ways, we were substitute grandchildren for her.
The Bs were a patrician family and pretty well to do. Brother B's godparents were the Cologne Funkenmariechen, the city's premier carnival dance troupe, which remains a big deal even today. Unfortunately, Brother B's father was an alcoholic. Worse, he had married beneath his station and lost the support of his parents.
Hans's godparents: The Funkenmariechen.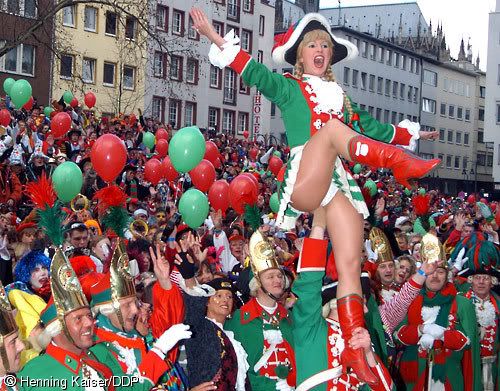 Brother B. once told me: "The Bs always had money. Except for us." From his mother's one bedroom apartment, I could still tell that he must have grown up in poverty surrounded by wealthy cousins.
Brother B. was also a hero, at least by German standards, a minor hero but nonetheless a hero. He never told me so himself but his mother related how Brother B. extricated himself from Hitler Youth activities and hung out with his friends in the parks and forests playing his guitar.
During the Third Reich, hanging out was strictly illegal. Participation in the Hitler Youth was quasi compulsory. Alternative groups, however informal, were considered a form of subversion. In Ehrenfeld, the most determined alternative youth group, the Edelweiß Pirates, had stolen weapons in pubs, acquired ration cards to supplement the diet of slave laborers, assassinated an Ortsgruppenführer, and even derailed an ammunition train with explosives.
When those kids were caught, the Gestapo strung them up in their neighborhood to make an example. For all practical purposes, the execution amounted to a state lynching.
Brother B's resistance never reached the level of the Edelweißpiraten but, may be, you can appreciate that non-compliance in that climate was a big deal, especially when you were just a kid.
When Brother B. did not return home from an outing into the surrounding forests, his mother went to the police who would not disclose any information about her son's whereabouts but when Sister D. spotted B's guitar on top of the police locker, she knew where he was.
Eventually, B. was released. Before the war ended, the authorities attempted to conscript him into the Volkssturm, the final contingent for the Endsieg consisting of old men and teenagers. Officers appeared in the schools and pulled out boys from the ranks of students. Brother B. insisted that, despite his height, he was too young.
When the war was over the B. family was ready for the missionaries. Aspiring to more but constrained by the rigidities of the class system, the Bs were open to accept an American religion.
America, after all, was about liberty, modernity and opportunity. And the self-governing congregations of Mormonism finally allowed Brother B. to apply his considerable talents properly.
Brother B., his wife and his mother joined. By that time, his father must have been dead or in the last throes of alcoholism. Eventually, Brother B. would not only become a high priest but also a sealer. He made sure that my friends F. and O., whose father was not a member and whose mother rarely attended, could come to church. Brother B. was genuinely friendly without ever being a fake or a busybody.
I remember his concern when we were not dressed warm enough and his delight when my baby sister grew up with us.
Brother B. was a German gentleman.
His mother, which I met as Sister D. had the picture of an organist or director of the Mormon Tabernacle Choir who had come to Cologne for a sabbatical on her cupboard. The musician kindly wrote her every Christmas, which meant a lot to her.
Much to my dismay, I also witnessed how a missionary from Idaho ridiculed Margarete D. for "wasting" her time with crossword puzzles. A couple of weeks later, Margarete actually got up in sacrament meeting and declared that she had given up wasting her time with crossword puzzles because the priesthood had instructed her to do so.
Members of Margarete's generation were still used to missionaries functioning as branch presidents. I knew fully well that the Elder's advice was wrong. Senior citizens ought to pursue any opportunity to exercise their brains. (Besides, it is inappropriate for a twenty one year old to criticize the life style of a woman in her eighties.) But at the time, I did not know what to do about it.
A couple of years before, Sister D. had also risen in sacrament to prophesy how the ward would grow and how we would have to open the curtain because there would be too many members to fit them into the chapel. So we went to work. Some teenagers spend a lot of time with the missionaries and joined taught every investigator. Baptisms and retention went through the roof.
We opened not only the curtain but combined with the Leverkusen and the Bensberg branches to split the ward. Sadly, that had to be reversed during the late nineties. After the teenagers left (their enthusiasm crushed during their full time missions), no one would replace their fervor. But at the time, it was exciting. A great youth program and the word of an old lady created a robust missionary program. And within less than three years the ward had grown enough to be split.
Forgive me for bragging but during that time, I had personally fellowshipped almost three dozen investigators into the church. Escapism from my dreary family situation was part of my motivation. I genuinely enjoyed the company of the missionaries. But Margarete D's words were on my mind constantly. Her prophesy became true.
One day, Brother B. and his wife brought an investigator to church. She was his patient. My brother, sisters, and me did not like her. Too much make up for our Lutheran and Prussian sensibilities. Living in Catholic Rheinland, we had gotten used to it but to be honest, the investigator still reminded us of Disney's evil ice queen.
She got baptized alright and had an affair with Brother B. To be fair, it probably was not her mistake any more than his.
Margarete was distraught by her son's escapades and shared that he was justifying himself in terms of D&C 132 and talked about Abraham and King David.
Of course, Brother B. was excommunicated. He left the woman. Her friends thought the worst of him and the church. We thought the worst of her.
Brother B. left his mistress and returned to his wife. He had never stopped activity. I heard that his wife was paying his tithing. Eventually his membership rights were restored.
Although I was about to be drafted into the signal battalion four in Regensburg, I returned to Cologne after my mission and flipped hamburgers for the summer. I stayed at a Catholic fraternity where I was consistently ripped off for the communal phone bill. I remember how pleased Brother B. and his wife appeared to be in the audience when I gave my report.
My mother told me that Brother B. died several years ago very painfully from cancer.
In hindsight, I feel that it was not necessary to judge him so harshly for his misbehavior. What he did, was not right but midlife crises happen in the best families. Too bad that he never had the chance to succeed as a Catholic.
So much promise and so much potential, more often than not go unrealized because Mormonism is so much less modern and so much less free than America. May be, Hans B's tragedy captures the tragedy of many Mormon converts.
Hans B. might not have been a big hero but he was a bigger hero than me (and much bigger than those who required his humiliation, I might add).
Brother B. lived a hard live with dignity and integrity. It was marked by an unfit father, the deprivations of the dictatorship, the war, and the postwar era, and unattainable aspirations to culminate in his Mormon adventure. The latter made all the difference.
Unfortunately, Hans B. and his wife did not have children. One more reason to remember Hans and his mother. I will never forget them.