Announcing the inaugural recipient of the Deseret Dingleberry award: Mark Paredes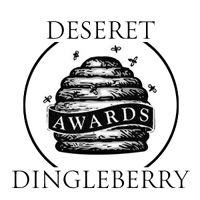 A month or so ago, there was a discussion over at r/exmormon about establishing a set of awards that would be something like a Mormon Razzies.
I was tasked to make it happen, but never did. After reading so many winning Brodie Award entries and getting to know our X-Mormon of the Year a little better, I was feeling downright upbeat and in no mood to kick off a contest to identify and pillory our silliest detractors.
But now that I've noticed this gem, I think I've found the missing motivation to launch our latest award program:
"Regular readers will note that comments from anti-Mormon bigots have been deleted from this site. I figure that if they have something to say to Jews, they can get their own blog." — Mark Paredes
Apparently, according to Mark, leaving comments like the one below makes me an "anti-Mormon bigot":
The Mormon replacement rate is negative in the US. According to the Pew U.S. Religious Landscape Survey the replacement rate of the Church of Jesus Christ of Latter-day Saints has dropped to 80%. That means that for every five members who leave Mormonism behind four new converts join the Church.
Notice the bigotry? Neither did I. The only thing objectionable about that comment is that it was copied-and-pasted without attribution from Hellmut's 2008 post.
But Mark deleted it anyway.
So, here's what I figure, Mark: I don't comment on your blog because I have something to say to Jews, I comment because I have something to say to you. Deleting comments simply because they bring contrary opinion or unsettling facts is plain rude, and equating reasonable disagreement with anti-Mormon bigotry is a frankly pathetic tactic.
Perhaps not surprising behavior from a Mormon who so humbly presumes to lecture liberal Jews on how to remain relevant, but insulting enough that I'm happy to return the favor by recognizing him as the world's first Deseret Dingleberry winner. Mazel Tov, Mark!
P.S. Going forward, I hope this prize could be wielded awarded for "the most outrageous, offensive, malevolent, crazy, or excessive statement or claim." Kind of like (OK, exactly like) The LaBarbera Award. Actually, come to think of it, I'm surprised Mark didn't win a LaBarbera for his work on Prop 8, which he has described as "the biggest battle in my lifetime." Heh. The Mormons may have won that battle, but it's becoming increasingly apparent that they've lost the war. No wonder Mark's so grumpy.
Maybe he'll cheer up when he finds out what he's won.
—
tl;dr: Mormon blogger pens advice column for Jews, cites bogus statistics, deletes corrections, wins a prize, Mazel Tov!