To Jesus and Mary, now Mormon and Married: Mazel tov!
By Helen Radkey
Jesus of Nazareth, also known as Jesus Christ, or simply Jesus, is the central figure of Christianity. The life and sermons of Jesus form the basis of the Christian faith. Jesus Christ is recognized by believing Christians as God incarnate, the Son of God who was raised from the deadthe Redeemer of mankindthe most important figure in history.
According to Mormon doctrine, Jesus Christ is the Savior of the world. However, it seems that even the perceived Savior of the world is not exempt from LDS temple rituals. Proxy rites for Jesus Christ were performed in the Salt Lake (LDS) Temple in Utah, in April 2010. The Salt Lake Temple, located on Temple Square in the heart of Mormon-dominated Salt Lake City, was dedicated on April 6, 1893three years before Utah became a state in 1896and is one of the oldest of the 132 currently operating temples that are owned and maintained by The Church of Jesus Christ of Latter-day Saints (LDS.)

New FamilySearch is the online genealogy database of the LDS Church that contains updated details of LDS temple ordinances that have been done for dead people. There are multiple listings for Jesus Christ in New FamilySearchunder different versions of his identitywhich have been submitted by individual Mormons. It is not known how many times Jesus has been subjected to LDS rites because all New FamilySearch records for himincluding combined recordsshow LDS ordinance details as Not Available.
On May 27, 2010, there were two similar records for Jesus in New FamilySearch which had been submitted by the same person. One listing was titled Jesus Christian, and showed Jesus Christian was born before 1500 Bethlehem, Israel, and died before 1550 Jerusalem, Israel. LDS ordinances were tagged as Not available on this record. The other entry was for Jesus Cristian, who was born before 1502 Bethlehem, Israel, and died before 1539 Jerusalem, Israel. The entry for Jesus Cristian gave a description of LDS ordinances, along with the name of a spouseMaria Magdelena.
Jesus Cristian was baptized and confirmed a member of the LDS Church by proxy on April 8, 2010 in the Salt Lake City Utah Temple. Jesus Cristian was also subjected to initiatory temple ordinances on April 8, 2010; an endowment ceremony on April 9, 2010; and a marriage sealing to spouse Maria Magdelena on April 9, 2010all rites occurred in the Salt Lake City Utah Temple.
It appears the submissions for Jesus Christian, and Jesus Cristian were attempts to manipulate the identity of Jesus Christ through the LDS temple system. The misspelled Cristian, instead of Christian, could have been a typo, or a deliberate error. It may have been intentionally entered as Cristian to get around a computer program that automatically blocks submissions that contain the names Jesus Christ. That would explain why the entry for Jesus Christian shows LDS ordinances as Not available.
While both New FamilySearch records in question lack complete birth and death data, and give imprecise before years of these eventsthe first name Jesus combined with the surnames Christian and Cristian (both spins on the name of Christ) are signs that Jesus Christian and Jesus Cristian are pseudonyms for Jesus Christ.
Other indicators on the New FamilySearch records that point to Jesus Christ are the birth place, Bethlehem, and the death location, Jerusalem. (Jesus Christ was born in Bethlehem and died outside the walls of old Jerusalem.) Another clue to the identity of Jesus Cristian is the name of his spouseMaria Magdelena, a misspelled variant of Mary Magdalene. Maria Magdelena is not listed on the Jesus Christian record.
Because Jesus Christian and Jesus Cristian have similar names and identical birth and death locationsBethlehem and Jerusalem, they are probably the same person. Their birth and death years are similar, but not the same. The estimated dates listed for these events look like they have been fabricated. According to their New FamilySearch records, Jesus Christian and Jesus Cristian were born and died in the 16th century. Jesus Christian lived roughly 50 years, while Jesus Cristian died in his thirties.
On May 27, 2010, Maria Magdelena was listed in New FamilySearch with her birth date as 1504 Israel, and death date as before 1540 Israel. Both years are likely inventions. Along with spouse Jesus Cristian, Maria Magdelena was baptized and confirmed a member of the LDS Church by proxy on April 8, 2010 in the Salt Lake City Utah Temple. She was subjected to initiatory temple ordinances on April 8, 2010; an endowment ceremony on April 9, 2010; and the marriage sealing to Jesus Cristian on April 9, 2010all rites were done in the Salt Lake City Utah Temple.
Mary Magdalene is described in the New Testament as a faithful follower of Jesus. Because the concept of marriage is strongly emphasized in LDS teachings, the notion that a spousal relationship existed between Jesus and Mary Magdalene is common among Mormonsalthough that belief is not formal LDS doctrine. There is no reliable historical evidence to indicate that Jesus was marriedto Mary Magdalene, or anyone else.
LDS Church officials have publicly stated that the New FamilySearch program is a technological deterrent to improper submissions. Yetunder their very noseson Temple Square in Salt Lake City, Jesus Christunder a false nametwo millennia after his birth, was offered Mormon salvation and an erroneous eternal marriage sealing.
Sometime late in the day on May 27, 2010, the individual entries for Jesus Cristian and Maria Magdelena were scrubbed from New FamilySearchconcealing the evidence that LDS rites had recently been performed for these two names in the Salt Lake Temple. The sudden disappearance of these records is a strong indication that Jesus Cristian and Maria Magdelena represent Jesus Christ and Mary Magdalene.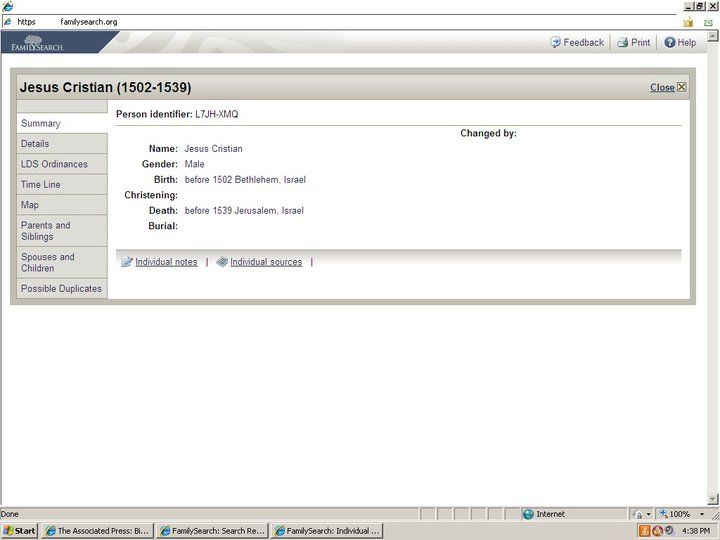 Copyright 2010, Helen Radkey