Prince Eugene, the Noble Knight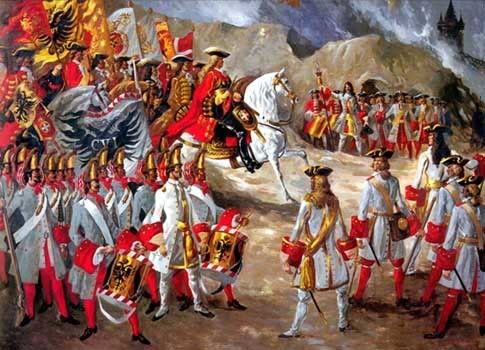 The gentleman on the white Arab is Prince Eugene of Savoy, probably the most famous commander of the House of Habsburg. The latter may have been perpetually broke but, like many Catholics, they did know how to put on a good show.
Raised in France, Louis XIV denied the Prince a commission, ostensibly, because Eugene was too small and fragile. However, the fact that his mother had been banished from France for poisoning her husband and questions about Eugene's sexual orientation cannot have been helpful.
Eugene entered the service of the emperor to defeat the French and their Ottoman allies in Italy, Hungary, the Voivodina, Southern Germany, Alsace, and the Low Countries. Taking his obligations as commander seriously, Prince Eugene usually participated in assaults and was wounded 13 times.
The Prince never married and there appear to be reports about his homoerotic escapades as a young man. When we exclude people for who we are then our armed forces are missing out on superior talent.
If we lift Don't Ask, Don't Tell, we may not have to miss out on commanders who will defeat our enemies and earn 13 Purple Hearts.