"It's not me that has a problem, it's the church that has a problem with who I am."
A candle-lighting ceremony took place Friday night across from the Mesa Arizona Mormon Temple.
I'll add more as the follow-up reports come in, but for now, it's gratifying to see this pre-event coverage from the local FOX affiliate in Arizona:
I was born in Mesa and spent my first nine years in Gilbert. Fond memories of eating kumquats off the trees at the Mesa temple. From what I remember of the area, it would take real guts to bring this message to the streets. Good on this crew for bringin' it.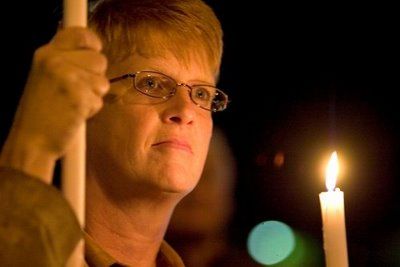 This update courtesy PostMormon.org:
My wife and I were there too. I took some pictures. I'll try to upload some if nobody else does. It was simple and thoughtful.
And here's the first post-event local TV news report:
Box Turtle Bulletin explains how the LDS earned the attention of Arizona activists:
Mormons in Arizona contributed at a minimum 40% some say as much as 80% of the $8 million raised to pass Prop 102 in Arizona. Prominent Mormons were also at the head of the official Yes campaign in support of Prop 102 … they out-spent anti-102 forces by nearly 12-1.