Religious Stereotypes Venn Diagram According To Google: Expanded Mormon Edition
I'm still working on the expanded LDS-inclusive diagram la BLAME IT ON THE VOICES, but in the meantime, here's the raw data for your perusal. Tip o' the hat to Joe.My.God:
When you begin a Google search with the question "Why are [Christians, Jews, Muslims, fill-in-the-blank] so …" – you get the [below] suggestions.
For the purposes of this post, I filled in the blanks with Mormons, Christians, Jews, Muslims, atheists, Catholics, Baptists, Jehovah's Witnesses, and Buddhists. If you feel I've left anyone out, please let me know. Meanwhile, here are the results for my initial selection:
Why are Mormons so … weird, nice, hot, stupid, happy, good looking, secretive, attractive, rich, successful.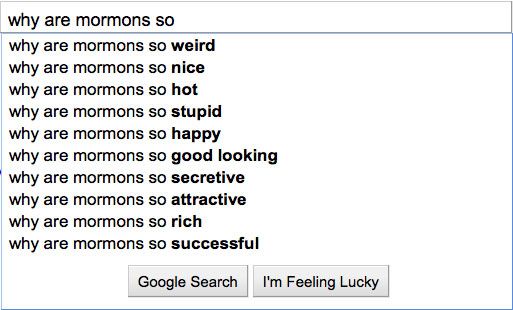 Why are Christians so … stupid, judgemental, mean, hateful, ignorant, intolerant, dumb, fat, annoying, gullible.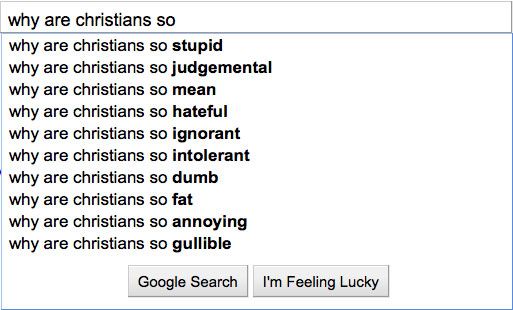 Why are Jews so … cheap, smart, successful, hated, rich, liberal, greedy, funny, ugly, powerful.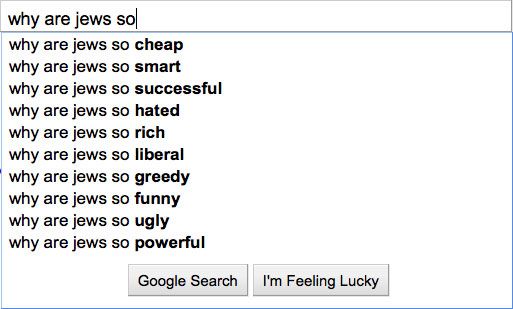 Why are Muslims so … violent, angry, stupid, crazy, sensitive, intolerant, easily offended, hated, backward, barbaric.
Why are atheists so … stupid, angry, awesome, intolerant, smart, hateful, mean, arrogant, annoying, rude.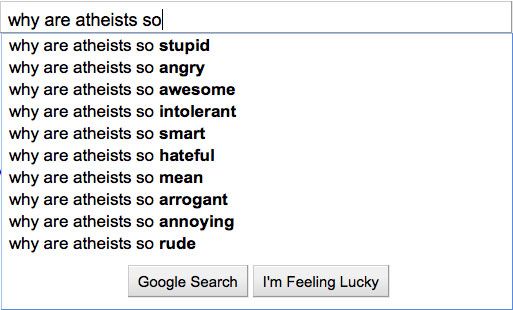 Why are Catholics so … strict, stupid, arrogant, judgemental.

Why are Baptists so … judgemental.

Why are Jehovah's Witnesses so … weird

Why are Buddhists so … happy.

Venn diagram comin' up shortly. 😉
While I'm working on that, I'll go ahead and mention that what really jumped out at me is how many positive stereotypes are attributed to Mormons compared to everybody else:
Mormons: 7 (nice, hot, happy, good looking, attractive, rich, successful)
Jews: 6 (smart, successful, rich, liberal, funny, powerful)
atheists: 2 (awesome, smart)
Buddhists: 1 (happy)
Everybody else: 0
UPDATE: Here it is. Thank you to Will_Power for introducing me to Venny, and a huge thank you to bradg for going above and beyond the call of duty by producing this: